Harold Alfond Foundation Makes Transformational Tribute Gift In Honor Of David And Kaye Flanagan

The Children's Center recently received a transformational gift that advances the future of the Center while honoring long time legacy supporters, David and Kaye Flanagan. The Harold Alfond Foundation (HAF) has announced a $1,000,000 matching grant in tribute to David, a Foundation trustee who passed away in October of 2021 after battling pancreatic cancer, and his wife, Kaye, a former Children's Center board member and dedicated advocate for children with special needs in the greater Kennebec Valley area. 
For decades, David and Kaye have committed their time, leadership and philanthropy to bettering our communities' ability to support these children and their families. We are humbled by their dedication and grateful for the Harold Alfond Foundation's generosity in honoring their history, which continues to enable our future. 
"We believe in the work of the Children's Center and, most importantly, we believe in the children it serves," David and Kaye said in a statement, prior to David's passing. "Having the Harold Alfond Foundation recognize our dedication to this mission with such generosity is humbling. We're honored and pleased to be in such good company in serving our community and brightening futures."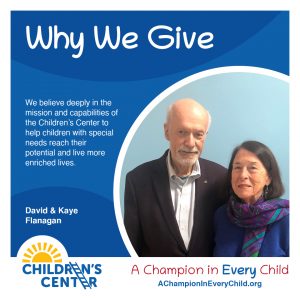 The Foundation will match up to $1,000,000 in donations supporting the Center's expansion. Donations qualifying for match will include new donations and the accelerated payment of existing, long-term pledges. Payments currently scheduled for 2024 or 2025 that are paid, in part or in full, by Dec. 31, 2023, will leverage matching dollars.
"Much of David's impact will continue to be felt for decades to come," said Jeffrey Johnson, executive director at the Children's Center. "This gift from the Harold Alfond Foundation is reflective of the impact of David and Kaye, and truly is transformational for this campaign. We already miss David's presence, but his legacy will live on."
With this incredible gift, we are more than 80% of the way to our goal and have less than $1,000,000 left to raise. Donate now and double your good by leveraging these matching dollars!